Welcome to GuideHunting.com, I am glad that you visited our site!
My name is Scott and I started GuideHunting.com from an idea that came to me one Sunday night in March of 2014.  I remembered a guide service experience that was in the spring of 2013 when I booked a snow goose hunt inSouth Dakota.  I used this opportunity to spend time with my daughter Isabelle and get some hunting in during the off months of the Minnesota hunting seasons. We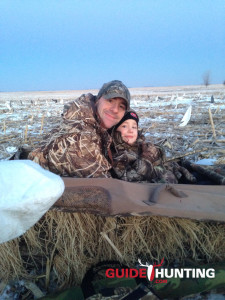 had an extremely successful hunt, enjoyed the adventure and had fun spending the weekend together.
However, the process of finding a guide was cumbersome, frustrating and labor intensive. As I searched for guides I realized many guides had varying levels of marketing and business presence.  Some guides used websites, some used social media and some were nearly impossible to find.
Through this experience I felt compelled to help guides become more successful in their businesses by helping them improve their marketing and business practices.  I knew that if I could help provide resources and best practices to start,  improve and grow their business that I could help more people make a profitable business out of their outdoor passion.   This is how I decided to create a service to provide guide school resources as well as guide training tools.
I created GuideHunting because I care about guides achieving their business goals and I want to increase participation in outdoor activities.
My passion for hunting and outdoors came when I was a child after my father exposed me to the sport of squirrel hunting in central Minnesota. We enjoyed many of afternoons roaming the nearby woods and spending time together. This passion was later fueled when my father-in-law and brother-in-law took me deer and waterfowl hunting as well as fishing. Ever since then I have been enjoying hunting and fishing a variety of game with friends and family.