In this interview we get great insight from Willie Dvorak, Owner of Jim River Guide service. As you look to become a hunting or fishing guide it is important to learn from others in the industry. We hope this interview is helpful as you make your journey into guiding.

Written by: Willie Dvorak/Owner, Jim River Guide Service
1. When did you start guiding in South Dakota, and why did you start guiding? 16 years ago. To avoid getting a real job
2. Can you tell us a little more about your business? I guide in South Dakota and Alaska focusing on individuals or small groups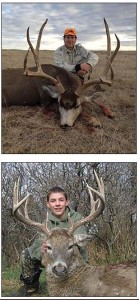 3. What is most rewarding about being a hunting or fishing guide? People telling me they had the time of their life and/or not having a real job.

4. With any business there are challenges, what is the biggest challenge in this industry? Clients watching too much TV and not knowing the reality

5. Has anything surprised you about being a guide? How many hunters are not good people.

6. What do you think are the 3 most important skills to being a successful guide and why? Patience, tact and a sense of humor.

7. What is the most unique/unusual or fun guided trip you provided? I'm writing a book about hunting trips that don't relate to hunting. They are all about the hijinks that has taken place on trips. Too many too pick a favorite.

8. What advice would you offer to someone who wants to start guiding? Start slow and see if you really want to work with hunters.

9. What is the proudest moment in your business? When somebody tells me they had the time of their life.

10. What is the top tool or resource you use for your guide service? I've got a college education and a lot of sales experience before I started guiding.
Willie Dvorak
Owner/Jim River Guide Service
605-228-8162 or 605-887-3561
www.jimriverguideservice.com
www.guidedalaskahunting.com
www.alaskafishingwithwillie.com