Become a Guide Here
If your are here we already have something in common, we both have a passion for the outdoors and we want to share our passion for the outdoors with others.  At GuideHunting our goal is to provide you all of the information and resources that you need in order to start and grow a profitable hunting or fishing guide service.

We show you the "business" side of guiding.  This is because if you want to become a guide or start a guide service it is ultimately a business and successful businesses have many considerations to operate in a profitable manner.
Now Let's Get Started!
Here are some key items that need consideration when starting a business including guide services:
How will you find customers?
How much to charge for your services?
How will you fund your business?
What type of business formation will you choose (Sole Proprietorship, LLC, etc…)?
What if any insurance, legal and license requirements are there?
What training or guide school will you need to attend?
Having a website for your business
What are your Refund/Cancellation policies?
Business Considerations Specific to Hunting Guide Jobs and Fishing Guide Jobs:
Seasonality of the game you offer guided trips for
Location where you will do your guiding at
Licenses, equipment and lodging needs of your clients
Starting your own guide service is a very exciting time and we are here to help you understand the many items that go into starting a guide service.
Lets review some of the benefits of becoming a guide:
Guiding can give you independence in scheduling-
This means that you can set your own hours and decide when to book clients and when not to book clients.  It also allows you to be in control of your earning potential.  If you work hard in marketing your guide service and are willing to be available to take as many clients as possible you have great earning potential.  However, be aware that the more you are available the more you can make.  Also, you need to be sure that you are available during your peak seasons.
Owning a business gives you job stability-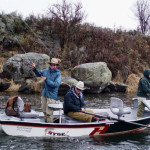 In today's business world there is no guarantee that any employee, no matter how long they have worked for a company, will have a job tomorrow.  By owning your own guide business you break your dependency on others and create your own guide job stability.
Running a successful guide business does take time and hard work-
One of the biggest challenges of any business is getting customers.  However, we offer resources to help outline how to find your first customers, gain referrals and earn repeat business year after year.  Outside of gaining customers, another challenge of owning a guide service is learning all of the business aspects of running a service.
Get The Comprehensive Resource for Guides
If you are ready for a career in guiding get instant access to "Guide School, The Comprehensive Resource to Start and Grow a Profitable Guide Service" now.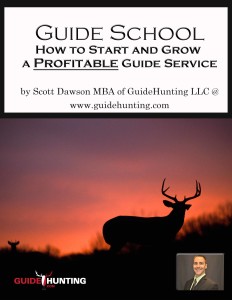 The on demand book provides detailed, step by step instructions on how to start and grow a guide service and is designed to help those who are just starting a guide service as well as those who have been in business for some time and want to learn how to grow their business.

This instant access book is perfect for:
People who want to start a guide service
Part time guides ready to go full time
Guides wanting to increase profit
People who want to work for an outfitter
Topics include:
How to get your first customer fast using the top 5 FREE marketing methods
The $2,000 mistake to avoid
Pricing your service for success
The #1 way to grow a profitable guide service
and many more…