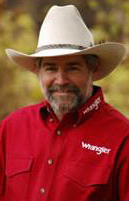 What can you expect from a guide school?  Join us as Tim Doud shares his entrepreneurial mindset and a glance at his journey to becoming a successful outfitter and guide school operator.
For over 35 years, Tim has been guiding hunters for elk in Wyoming, Colorado and Idaho and has built a very successful guide school.  His school was featured in the Outdoor Channel TV Show, "Outfitter Boot Camp" . Tim is one of the top elk guides in the world. In fact, his guide school is so successful that the demand for his graduates exceeds the number of students he takes.

When did you start your guide school in Wyoming, and why did you start it?
I bought my outfitting business from the previous owner in 1991 and I started my hunting guide school in 1992.   The reason I started the guide school was because when I went to guide school in 1980 it was not a good experience so I knew firsthand what to do to and what not to do in order to make it a good school.  The trainers at the school I attended were just graduates of the guide school and not the actual outfitter.  It was disappointing to not be learning directly from the outfitter because they were the true expert, not the recent graduates. I was only working for the outfitter and was never taught any lessons.
Another factor in me starting a guide school in Wyoming was that I had a good reputation as an elk guide so outfitters were constantly contacting me because they had a shortage of guides and wanted me to help find them qualified guides.  They knew that I could be successful in teaching guides because when I got started in guiding I was a 19 year old kid who never saw a horse or mule but I went to guide school, did well and have become a successful guide.
Outfitters often told me that they hired guides that graduated from  guide schools but they were disappointed in the skills of those guides because they didn't know some of the basics like how to saddle a horse, how to shoe, etc.  The outfitters were frustrated with the guides but I told them that it was not the guide's fault that they didn't know the basics, I told them that it was the fault of the guide school for not teaching them what they needed to know in order to be a successful hunting guide.
Can you tell us a little more about your guide school?
My guide school is the only archery guide school in the world and I only train archery elk guides.  This is because every outfitter that contacts me to hire a guide wants an archery elk guide.  They know that if a student is trained to guide an archery elk client, he will have no problem guiding a rifle deer or bear client. Additionally, I only specialize in elk guiding because it allows me to focus on training my students the one specific animal which allows my students to advance quickly.  This is why 90% of my students are guiding their first year instead of wrangling or packing of a year or two then guiding later.
4 weeks is not enough time to teach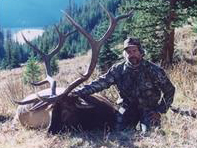 someone everything they need to know about guiding an elk hunter. If I cover 6 guiding different animals the student does not learn enough information about any animal in order to be able to guide. This is why a lot of guide schools will tell their students that they will be wrangling or packing their first couple of years until the learn what they need to know in order to guide.
How do people find out about your guide school? 
Word of mouth and the internet.  I also have outfitters that send people to my school.  The agreement is that when the student graduates that outfitter gets to hire that particular guide.  Occasionally, outfitters pay for to send someone to go through the program to get them as their guide once they graduate.
What is the typical program length to become a guide?
4 weeks is what the average is in the instustry.  I do my best to provide them all of the training the students need but they cannot learn everything in 4 weeks and eventually they need to start learning by doing.  We work to teach them the basics such as setting up camps, packing, bugling, Game & Fish and Forest Service Regulations and then let the student take 1-2 months after they graduate to get more field experience with an outfitter before hunting seasons start and they are guiding hunters.
The outfitters know the guides are trained and just need some experience.  An outfitter knows that a student is like a green horse. The horse knows what to do, but needs experience to get good. It is like most other jobs where people cannot learn forever, eventually you need to get out there and start working and learn from experience.
A misconception is that guiding is something that you can learn out of a book.  Because of all of the regulations and hunting technique changes, a book would need to be undated every year in order to keeping up with all the changes.  It does take a lot of work to keep up to date on everything that is going on in the guiding industry and hunting in general.
What can students expect to learn at a guide school? 
Our students will learn the basics to get hired from an outfitter.  This includes how to saddle and ride a horse or mule, how to pack and shoe, bugling for elk, how to handle clients, hunting regulations, and how to setup a camp.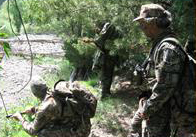 One opinion I have that varies from others is that teaching lessons like first aid , shooting a gun or fishing at a guide school are not a good use of the students time because students can learn those lessons from trainings near home.  Since each minute at guide is so valuable and the total amount of time we have together is limited and I want to use that time we have together for education that my students cannot get at home.
Can anyone become a guide?
In my opinion a guide only needs two things which are common sense and good work ethic, the rest can be taught.  If someone wants to become a guide they can but they have to be willing to learn.  The school can teach and provide the coaching but the student must have the desire to learn what they are being taught.  I have taught males, females, people with a handicap, various age ranges and and have seen success from all types as long as they are willing to do what it takes to learn the guiding skills.
What can someone expect to pay for a guide training program?   
For a good school it is typically between $4,000-$6,500.  This is usually determined by group or individual courses.  For example, I offer both group and individual guide settings and the individual settings are more because there is only one student during that class.
How do people typically pay for their education?
I have seen situations where parents pay for the program.  We also see where the students save up for the school.  There are even some situations where the student will put the program on a credit card and pay it off once they are employed by an outfitter.  We also offer a payment plan for students to pay for their school.
What I did to pay for my guide school was save up each week to get enough to pay for the deposit and then continued to work to pay off the balance.
What type of jobs can someone expect to get after graduation?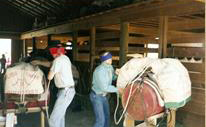 It really depends on the type of school that you attend.  Some graduates will be able to start as a guide and in other cases people may start as a wrangler, packer, camp jack (assistant to wrangler) or cook.
What type of earning potential do guides have?
The first year working guides can earn around $1,000-$1,500 per month and they typically get room and board included.   Additionally, the guides earn tips which can add another $1,500-$2,000 per month.  As guides get more experience the earning potential goes up.  Outfitters would rather keep a good guide around than get another one so they do their best to take care of them.
What type of job search assistance do guide schools provide? 
This really ranges from one guide school to the next.  Most guide schools give a list of outfitters to the graduates and the graduates will need to do all of the outreach.
In my case I always have more outfitter demand than the amount of graduates I can produce.  When students graduate from my school I hand pick the job for the graduate based on their skills and what they do well and match the student with the outfitter.
It is a good scenario because the outfitter knows a student is calling and the student knows the outfitter is going to hire him.  During the guide school I talk to my students about what states they want to work in and what type of species they want to hunt so I can match them up with a good long term fit.  The outfitters trust me to send them quality guides so they will hire those that I refer to them.
Could you share a success story of one of your graduates? 
Scott Denny is one of my graduates and he now operates a very large outfitting business called Table Mountain Outfitters in Cheyanne.  He is doing around 200-300 clients per year.  Scott was a typical student meaning that he loved to hunt but didn't know how to guide and had no horse or mule experience.   However, he came to my guide school, worked hard and learned what he needed to be successful.   Scott now has a TV show called "Life at the Table" on the Sportsman's Channel.
With so many guide school choices how does someone know which one to select?
First, decide what type of guide you want to be and make sure the guide school has the program you will be interested in long term.   As an example, if you want to be a back country guide that means you will be away from people except for your clients, others may want to be a guide who  hunt from trucks such as deer guides in Texas.  Either way just be sure the school has the program you are looking for.
Make sure it is the time of year that will work for you, make sure it fits your personal schedule but there are also in different types of settings based on the time of year.  During certain times we are around the ranch more and other times we are out riding 8 hours a day.  Make sure the time of year aligns with your desired learning experience.
Make sure the outfitter is the one teaching the guide school.  At some guide schools previous students are teaching.  However, it is best to learn directly from the outfitter.  This is because you are booking your guide school off the reputation of the outfitter, not someone who graduated 1-2 months ago.  To me this puts up a red flag that the outfitter is just in it to make money and not teach the student. I also feel that it is a red flag if the guide school asks you to use a study at home study course before attending.   This is a concern because the students may learn something wrong or outdated and to me this indicates that the school is not comprehensive enough and the students will not learn everything they need to know at the school. A school that requires a home study course is telling the student that the school cannot teach them everything they need to know. The student must learn some of the lessons themselves.
Is guiding a full time profession?
This really depends on the type of guiding that you do.  For example, the guides that work for me work from April 1st to the end of November.  However, waterfowl hunters have more fall/winter seasons.  Again, this is more based on the type of game you are going to help your clients pursue.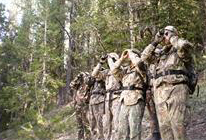 Any final advice would you offer to someone who is looking at going to guide school?
The big thing to remember is that guiding it is not  about getting paid to hunt and fish.  In reality, only about 10% of your time is out guiding with the client.  The rest of the time is spent prepping for the customer and other responsibilities.  Guiding is a great life for a single person who loves the outdoors but it is tough to support a family right out of school without your significant other also having a job.  However, after a few years the earning potential is better.
Just like in any job you will need to work your way up into more advanced positions and earning potential.  Although there are not requirements to go to guide school, most all outfitters will not hire you if you have not gone through a guide school.  It is much easier for them to hire someone who already has the necessary skills rather than taking the time and expense to train someone new.
Conclusion: We would like to thank Tim for the time he spent sharing his experiences as an outfitter and hunting guide school operator.  As you begin to research your desire to attend a guide school please take Tim's guidance into consideration to ensure that you find a guide school that fits what you are looking for.
Responses provided by: Tim Dowd
Owner Bliss Creek Professional Wilderness Archery Guide & Packer School
Bliss Creek Professional Wilderness Wrangler School
Bliss Creek Professional Wilderness Camp Cook School